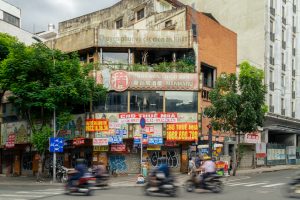 The recent award of a UEA AHRC Impact Acceleration Account (IAA) grant (£11,888) marks the start of an exciting two-year programme of impact activities to further engage diverse Vietnamese audiences with data collected under an Imagining Futures Phase II Commission project 'Archiving COVID-19 Heritage in Ho Chi Minh City'. Using arts-based and ethnographic methods and 'contemporary archaeology' – an emerging approach rooted in material culture studies – the project team (PI Rachel Tough, Co-I Diana Lê, Co-I Quang Nguyễn) documented COVID-19 materiality including posters, signage, murals, graffiti, discarded personal protective equipment and barricades on city streets. The recently launched project website Chuyện Thời Dịch (Stories from the Time of Pandemic) functions as a democratic, digital archive of the COVID-19 heritage that the team captured in photos, drawings and interview transcripts. Diverse Vietnamese web users have also begun submitting their own content to the archive and will be invited to bring their most memorable COVID-19 object to a conversation cafe event to be held in Ho Chi Minh City in late July 2023.
The IAA funding – granted through the 'Developing Creative Industries and Digital Cultures' stream – allows the original project to progress to a new phase by funding a major exhibition in Ho Chi Minh City in 2024, paying for a dedicated Vietnam-based web manager to extend the website's functionality and recruiting an SEO specialist to encourage even more citizen archivists to engage with the existing data and submit their own. Contributors may include city dwellers who experienced other crises such as the 'Vietnam War' or the post war subsidy period of hardship. The IAA grant therefore presents opportunities for the extraordinary period of pandemic to be considered in comparison with other tumultuous events in Vietnam's modern history. Knowledge exchange events will take place in Ho Chi Minh City at the end of the two-year project to coincide with the 50th anniversary of Vietnam's reunification in April 2025.
Both the underpinning Phase II Commission project and forthcoming impact activities are led by Rachel Tough who is a final year Doctoral Researcher in the School of International Development at the University of East Anglia. Her PhD thesis draws on 18 months of fieldwork and will produce an ethnography of the COVID-19 pandemic, focused on one working class urban community hit hard by the virus. Rachel said "We are so grateful that Imagining Futures put faith in us to document material traces of pandemic in Ho Chi Minh City. We had only a narrow window of time in which to capture the social reality of pandemic in front of us before 'normal life' returned. Through our Phase II Commission small grant, we were able to start data collection quickly, create an engaging website and engage city dwellers in the archiving process. It has been especially satisfying to see the project stimulating conversations among city dwellers across class, age and gender divides. IAA funding will support us to ensure the longevity and influence of the project website, allowing even more people to engage with the photos, sketches, stories and memories that we collected in the wake of COVID-19 for years to come".
'Shuttered Japanese restaurant with competing 'for rent' signs illustrates post-lockdown economic damage in central Ho Chi Minh City'. Photo: Nguyen Le Thai