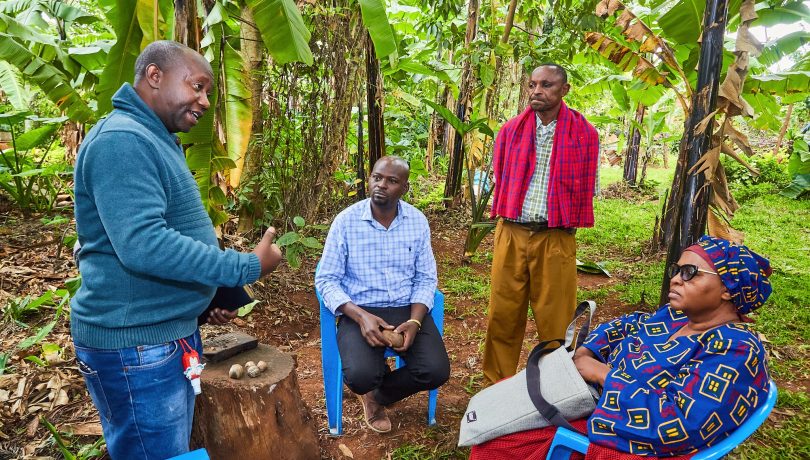 LOCATION
Kilimanjaro, Tanzania
SYNOPSIS AND POSITION
This project aims to archive Chagga Traditional Songs as a form African traditional knowledge. Chagga people have been using songs, poems, riddles idioms and other forms of representation to teach and impart knowledge to the young generation. Due to the changing community set up, environment, diversity, and a state of modernity this traditional form of education seems to be under threat. To digitally archive this form of knowledge, a comprehensive survey aiming at identifying and documenting Chagga traditional songs by way of audio-visual techniques is imminent.
Field visits in each site for inception of the project, identification of key participants and interviewees are accomplished successfully. Also conducted oral interviews with elders and all participating dancing group leaders and individual singers in each project sites. Group discussions were successfully done in Hai, Moshi Rural and Rombo districts. Seminar for participants was conducted prior to live performances and recording which are all executed now.
OBJECTIVES AND METHODS
The overall objective of the project was to survey, document and archive in digital form available Chagga Traditional Songs in Kilimanjaro region. This involved collecting and compiling audio – visual materials, interviewing local elders and local traditional group singers. The project area was divided into three major areas which were Hai, Moshi Rural and Rombo districts, whereas in each area two sites were selected to make a total of six sites. In-depth interviews and group discussions with the singers/groups/elders were followed. After field work, one day seminar to all participants/groups was successfully carried out. This was then followed by recording of the live performance from the individuals or group singers. Data processing has been carried out whereby 21 minutes with 1.19GB documentary was produced ready for submission for repository and distribution
WORKSHOPS AND EVENTS
One day seminar with all participants/groups held after the field work
ACTIVITIES
Orientation and recording of live performances from participating groups
Data processing and a video about the project
Photographs show Top Row left to right: 1) Iringi Traditional Dancers from Rombo District performing during the group performance and recording event. They are decorated by dry banana leaves; 2) Three groups namely Mtingo dancing group, Mavundo Traditional Dancers and Iringi Traditional Dancers performing jointly during the recording event which took place in Mengwe village, Rombo Kilimanjaro; 3) Mtingo Traditional Dancers from Moshi Rural District singing and dancing performing during the recording event using Elongated wooden drums and Kudu (animal) Horn as trumpet; Bottom Row left to right: 1) Mavundo Traditional Dancers from Hai District singing and dancing during the group performance using instruments such as Kudu Horn, elongated drums and a whistle; 2) The traditional drums known as "Mtingo".
© Nicholaus Joseph Kavishe