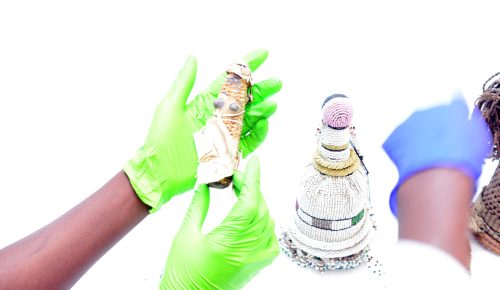 Location
Accra, Ghana; Cape Town, South Africa; Siksika Nation, Canada; Mumbai, India; London, Oxford & East Sussex, UK
Synopsis and Position
The Prisoners of Love (PoL) project aims to connect UK collection items with their trans-national home peoples and bring emerging artists from diasporic communities in the UK, curators and researchers into conversation, to work responsively with complex histories and material practices, opening out extra-institutional art and archival practices in the form of artwork, story and theory.
The project focuses on the relevance of indigenous knowledges; approaches to the archival process in relation to displaced or marginalised people and contexts; and innovative approaches to archiving, specifically through visual arts practice. It works with collaborators from Siksika Nation; Ghana; South Africa; India; UK. It aims to catalyse under-represented artists' careers and work towards meaningful change in collections, and to connect and strengthen links between people who are geographically separated but culturally related, past ancestors, present day and future generations.
Objectives and Methods
Our project will convene in-person, transdisciplinary conversations and international virtual visits combining workshops, discussion and participatory research on materialities in museum collections. This model for interaction will encourage dialogue, co-creation and social discourse, bringing together narratives and imaginative experiential dialogue, recognising trans-nationalism across home peoples, displaced objects and diasporic communities. We will activate material knowledge immanent in collection items through visits, gatherings, material and conversational exploration. We seek to work between registers often treated as mutually exclusive: aesthetic and investigative, documentary and imaginary.
Workshops and Events
The Prisoners of Love project has an active, live blog here, where you can keep up with events and activities of the project.

Activities
Virtual Visits:
Old Sun Community College, Siksika Nation, Canada & Hastings Museum and Art Gallery, East Sussex, UK. [date tbc]
Compound 13 Lab, Dharavi, Mumbai, India & The Horniman Museum and Gardens, London, UK. [Nov 2022, Jan 2023]
University of Cape Town, South Africa & University of Ghana & Pitt Rivers Museum, Oxford UK [2 dates tbc]