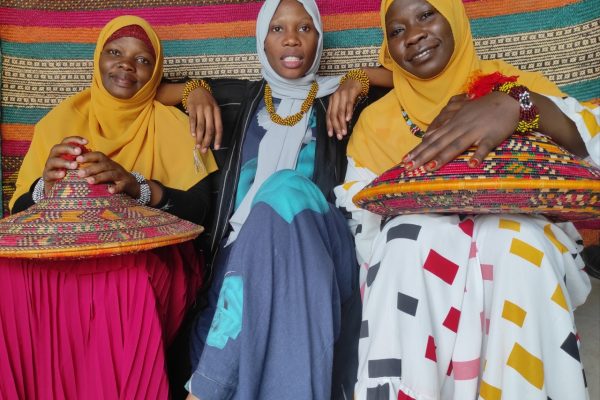 LOCATION
Kibos, Nairobi, Salaita – Kenya
London – UK
SYNOPSIS AND POSITION
Tracing Nubian Archives is an intergenerational, cross cultural project that uses African archival practices to engage with the Nubian community in Kenya.  The project works with Nubian objects held in U.K. museums, Kenyan landscapes (including WW1 battlefields), Nubian elder archives and oral histories to develop a flexible Nubian archive that tells the story of their rich cultural history and resilience in the face of land right and citizenship injustice. The project engages with the ongoing lands court case the Nubian community in Kibos is involved in, following their unlawful forced eviction during the COVID-19 pandemic. By bringing together Nubian history from the static British archives and the dynamic Kenyan archives – Tracing Nubian Archives uses film, community gatherings and digital repatriation to share their story both within their community and with the wider public. It serves both as a community record and a counter to their story's previous erasure. 
OBJECTIVES AND METHODS
The project team are going to develop a series of films (with documentation where appropriate) for distribution online and also via WhatsApp. The deliberate use of WhatsApp is because its widespread use as a tool allows for the inclusion of people who have been displaced and/ or marginalised. Information is easily shared both locally and internationally and the features of WhatsApp allow it to both broadcast and be a site of conversation through the groups feature. The documents feature allows for the development of an ongoing flexible archive that is accessible to a wide range of people. The process of developing the films is part of the archival practice as it will necessitate the dialogues indicated above while capturing the archives that are emerging through the ongoing land court case.  
The films will feature 
Documentation of the ongoing land case in Kibos

 

A history of Nubian peoples pertaining to their context in Kenya

 
Rich Nubian material cultural heritage through their craft practice – these videos will also include an instructional set for younger Nubian community members

 

The process of digital repatriation of Nubian collections from the UK

 

Oral history with Nubian elders

 

Landscape archival work through visits to key sites

 

Multiple dialogues as detailed in the Venn diagram showing the overlapping experience

 
The films will feature several Kenyan languages including Kinubi, Kiswahili, Sheng and English. It is important to note that even though there will be use of subtitles – not all the conversations will be fully translated. The project works to reflect and meet the needs of Nubian communities while working to educate the wider public.