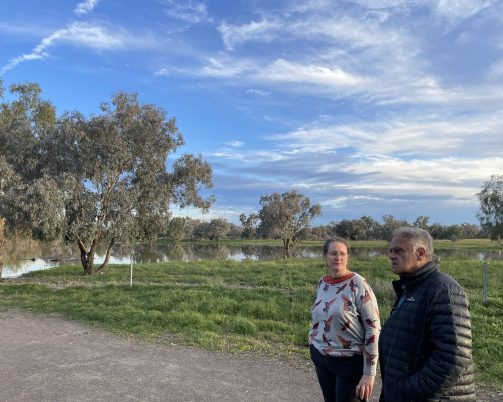 Locations
Bourke and Brewarrina are towns in outback New South Wales, Australia. These two towns, and the Gundabooka and Toorale National Parks, both some 80 kilometers from Bourke, comprise our four main fieldwork sites. Preparation, writing-up and additional fieldwork takes place in the national capital, Canberra, 722 kilometres south-east of Bourke.
Synopsis and Position
The aim is to create a book that speaks. Spoken on Country by a Barkindji elder and poet, in dialogue with two white poets and a number of indigenous interlocutors, taped and then transcribed, A Book that Opens, will comprise a popularly-accessible archive of story-based knowledge about river management down the Barka / Darling River, and about care of the ancient fish-traps at Brewarrina. The evidence of extensive Aboriginal management of rivers, deserts and forests prior to 1788 is there but it has been widely ignored by a settler society anxious to maintain rights over a continent claimed as "unused" land. Focussing on the material and story-based evidence of such practices, the project constitutes a practice-based experiment in archiving the kinds of dialogic intellectual practice and care for Country that indigenous thinkers have sustained for millennia.
Objectives and Methods
By insisting that every word it contains initially be spoken, the project aims to bring indigenous storytelling to the fore of our literary experience. In the process it opens new angles on just what a book might be. At the same time, the project seeks to be true to the Intergovernmental Panel on Climate Change's recent imperative to seek answers to questions of sustainable practice in indigenous cultures. The Brewarrina fish traps—possibly the oldest human structures on the planet (Heritage NSW 2014)—are of stone, served to maintain gatherings of up to 5,000 people in their flourishing, and constitute an archive of sustainable practice in their own right. The book tries to let such places speak as well.
Activities
Primary fieldwork (constituting Chapters One to Eleven and Chapter Thirteen) was conducted from the 9th to the 18th of September, 2022. All of the recordings from which the book will be generated have now been made, excepting Chapter Twelve A (December 2022) and Chapter Twelve B (July 2023).
Chapter Twelve A will constitute the transcription of a 90 minute panel presentation on the project, which the team will extemporise at Out of the Ordinary: On Poetry and the World, a conference in Canberra on the 6th of December 2022. Our point is that unscripted oral dialogue is an indispensable element of the European intellectual tradition as well.
The team will re-perform this same 90 minute presentation to their indigenous interlocutors in Bourke, in July 2023 (date TBC). The transcription of that second performance will constitute Chapter Twelve B.
Photos clockwise: Big Overflow; Paul Collis and Muda Foundation; Big Road; Sunrise; Big Sky; Big Foreground [©Paul Magee]